discography


w.m.o/record label
desetxea net label
www.mattin.org




The Wire (January 2007)

MattinBarnes
Achbal Al Atlas
LITTLE ENJOYER CD
Tony Conrad/Tim Barnes/Mattin
Tony Conrad/Tim Barnes/Mattin
CELEBRATE PSI PHENOMENON CD
Just don¹t call him a Basque primitivist, is all. It¹s tempting to wonder
whether \214dirty laptopper¹ has become a pejorative in the way that \214dirty
bebopper¹ was during the jazz wars. The difference is that Mattin, for all
the dirt and noise that permeates his performances, is a much more subtly
inflected and musicianly performer than most of the current crop of computer
abusers.
The association with Tim Barnes is a fruitful and well-attested one, two
players of approximately similar aesthetics who are nonetheless different
enough in temperament and approach ­ Mattin the more studied performer,
almost Apollonian, Barnes the baroque subversive ­ to create vortices of
tension in their encounters. The addition of Conrad on the second disc is
difficult to quantify given the apparently undifferentiated weight of sound
that emerges, but I¹d guess that his role is most evident in the non-linear,
sub-minimalist cast of the music, which is all buzzsaw abstraction, slow
movement and stationary form. It¹s an ugly listen, but only at the most
immediate level. Underneath, there are whispered harmonics, clusters of
overtones and \214interference¹. Fiddling with the dials and volume button
yields any number of alternative realisations.
Achbal Al Atlas begins with heavy, almost militaristic drum beats before
crashing into soundblocks that immediately recall the kind of cheerfully
haphazard electronic work the late Stu Martin was deploying in his 1970s duo
with John Surman. Achbal Al Atlas has something of the same mixture of raw
noise and delicate lyricism. There are three tracks on the CD, all of them
apparently carved from something larger, which doesn¹t in any way compromise
a sense of logic and even of development. Barnes¹s role in this is difficult
to judge. He is, though, a supreme collaborator, who seems able to accept
the logic of other artists¹ work and assimilate it into his own, equally
edgy language. In conjunction, they¹ve produced something darkly resonant,
but shot through with lighter sonorities. Those heavy beats are probably
his, though again these three performances are so entirely coherent and of a
piece ­ it isn¹t ³Mattin & Barnes², after all ­ that the separation isn¹t
worthwhile.
BRIAN MORTON














mimaroglumusicsales



impressively harsh free-improv blasts from mattin & tim barnes (with tony conrad guesting in spots) - all over the map from the pounding "power electronics" of the opening piece (reminds me of a lasse marhaug sets ca. 2004) to the twitching full-freq. overload of the second, to the high tones of the last.

those expecting a delicate, pointilist micro-improv set from the pair (with mattin toned down) will be... shocked to say the least - to instead get the opposite (barnes turned up). an excellent disc, the best mattin i've heard on record as-of-yet, and nothing like barnes' recorded output to date...




VITAL WEEKLY
============
number 559
------------
week 2
------------


More noise and of likewise intelligent kind is on the duo disc of Tim Barnes and Mattin. Mattin plays his usual computer feedback and Barnes on "prepared drum & effect pedals, analog feedback, gong". This is not for the weak of heart, but the two play an interesting bunch of music. It's not entirely noise cum feedback for the full length of the disc. There is actually a lot more happening than that. They move from the true loud noise into areas of quietness (?) and stillness (??), and as such this is more a sound collage of their tour together, than an actual reflection of the tour. Well, I assume so. It's a furious release, but a great one. The cover is really great too. It is printed on paper that was left in the streets of New York and by passers painted on them, before they were printed. Very streetwise release! (FdW)
Address: http://www.littleenjoyer.com





Dusted Magazine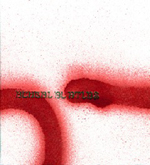 Finally, one of the scariest discs in some time is Achbal al Atlas (Little Enjoyer), a duo between percussionist Tim Barnes and the unpredictable laptop assassin Mattin. It swaggers forth with an ominous tattoo and metallic scrape soundtrack worthy of early Swans. It's a huge, unrelenting noise that's broken up by rests and pauses, returning each time with a different, increasingly tortured texture. Ultimately the pulse is obliterated, a floor removed to reveal a yawning, howling chasm of noise below (in places it's unclear what Barnes' contribution is when the noise gets so huge – presumably he's mic'd his drum heads?). Not everything is quite so hideous. A see-saw of chimes and hiss opens the second untitled track. The overall sound here is like listening to your neighbor's music through the wall, which starts to melt as the track goes on, revealing Barnes' cymbals – stroked, struck, and bowed. There's another shift on the third track, as the music moves into a pervasive, subtly morphed single coil pitch, one of those beauties that, if you move your head around, seems to tilt back and forth on a minor second. While Barnes tries gamely to introduce some subtlety with mellow muffled chimes, the disc ends with a speaker-pulverizing mash-up. At times exhilarating, at times a bit self-indulgent, this one is still worth checking out.


By Jason Bivins




Tranzistor

(by Nicolas Absurd, Athens)




midday's and evening's walks don't leave me lots of chances to listen to
musics, unfortunately, but the landscape of my beloved city is a
satisfaction. i pay a visit to the city's folk museum in the old town. i
talk in brief with pashalis and dora who run maniacally the first w/ a
guide of a tourists group in the museum and the other w/ preparations in
the back room of the museum where live sets, seminars, talks, etc are
taking place usually. is getting late, i visit adam he is totally
exhilarated w/ achbal al atlas of mattin/tim barnes on little enjoyer. a
nice noise collaboration i would dare to say in some points a bit different
compared to other things they have done. nice rotten sounds.. we leave his
place, leaving behind our pals vaggeli and deniz to talk... they just met
having spent a year of msn chat, back then he was a university student in
the city of kavala (greece) and she was in her home town in tsanakale
(turkey)....








Bagatellen



Mattin/Tim Barnes - Achbal al Atlas
Little Enjoyer
le07
Hard to figure out exactly what we have here, though who cares? Apparently cobbled together during a 2005 tour of seven US cities—there are only three tracks, hence one aspect of the confusion—we find Mssrs. Mattin and Barnes hollowing out the ears of their audience, applying a sonic cleanser with which to rub one's auricular canals 'til they're squeaky clean.
The first cut opens with a steady, dull beat from Barnes, a homing call that attracts some skittering percussion, is suspended, then returns swathed in electric noise. The general atmosphere is not all that dissimilar to the same duo's performance at this year's ErstQuake festival (albeit without the, erm, lyrical content) that I enjoyed a great deal and I likewise find this track to be a lot of fun. There's a clear pause about four minutes in; the sound quality when it re-enters is different enough that I assume we're in another place/time, though still in extreme noise territory. Good stuff. From here on, though, my attention wavered somewhat. Track two begins in like climes then (another venue switch?) abruptly subsides into washes of cymbals over a discreet hum that eventually becomes the sole element, distorting somewhat, shifting high. The final cut has some nice interweaving of altissimo static whine and metal—Tony Conrad is purportedly in here somewhere, perhaps around this section—until another ellipsis sends us once again, I guess, to an alternate site where the noise-making strikes me as less inspired.
"Achbal al Atlas" (googling reveals a school in Temera, Morocco, where some pedophilia charges were lodged) is a mixed bag, fine at its best, a little too unfocussed otherwise. I believe they're issued in lovely, hand-painted covers. The image above is the closest to my copy.
Posted by Brian Olewnick on December 12, 2006 5:46 AM