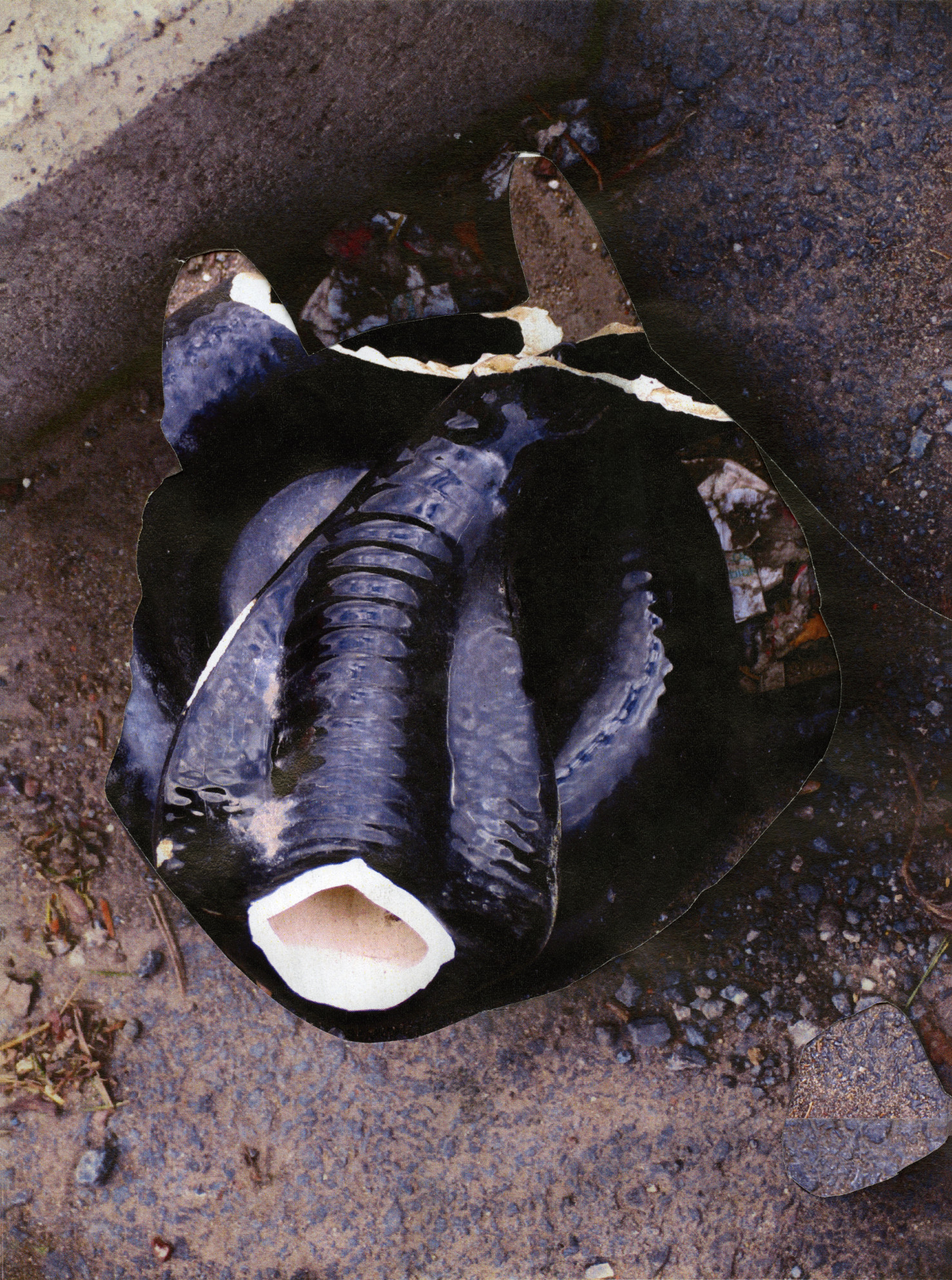 Billy Bao - Communisation

[Fuck Yoga]

[Insulin Adicted] Skopje

DOWNLOAD

http://fuckyogarecords.bandcamp.com/album/communisation



Billy Bao with Taku Unami, Alberto López Martín, Xabier Erkizia, Mattin, Mikel Xedh, Elena Aitzkoa, Bimbab, Ainara LeGardon, Loty Negarti, Iñigo Telletxea, Iker Albisu, Mikel R. Nieto...

Recorded at MRB|AMM III,
Arteleku, Donostia, 8 August 2012
Mastered and cut by Rashad Becker

Images by June Crespo

Thanks to everybody who
participated in MRB|AMM III

Anti-Copyright







On retrouve ici les traces classiques d'un disque de Billy Bao (punk barré, bidouille digitale, désordres conceptuels, colère et désespoir) mais menées si loin qu'elles atteignent la destruction physique : à la fin de la face A se trouve une sonification digitale du crash économique provoqué en 2010 par le trading à haute frequence. Sa négativité a été inscrite dans l'acte de fabrication de ce disque quand la transcription sonique brûla la tête de gravure pendant la préparation de la lacque. Qui sait? Peut être est ce comme ça que Billy Bao improvise avec les moyens de production!
Si sur la face B on peut entendre le résultat de cette gravure avec une tête foutue (le pitch bizarrement haut, par exemple), c'est aussi le son qui émane d'un groupe de personnes qui ne laissent pas les marchés dicter leur futur, y compris le musicien de Tokyo Taku Unami qui imagine le son de l'auto-abolition.
Sur les ruines du Rock détruit, une autre forme de musique méprisable émerge qui vient rudir la surface d'un présent contesté.



Radio plays:


http://kfjc.org/music/playlist.php?i=50506
http://kfjc.org/music/playlist.php?i=50675
http://kfjc.org/music/playlist.php?i=50678
http://kfjc.org/music/playlist.php?i=50687
http://kfjc.org/music/playlist.php?i=50725
http://kfjc.org/music/playlist.php?i=50755
http://kfjc.org/music/playlist.php?i=50762
http://kfjc.org/music/playlist.php?i=50806
http://kfjc.org/music/playlist.php?i=50857
http://kfjc.org/music/playlist.php?i=51000
http://kfjc.org/music/playlist.php?i=51020
https://wfmu.org/playlists/shows/66012
http://www.wfmu.org/playlists/shows/66057
http://chirpradio.org/dj/2847/contact/P510
https://wfmu.org/playlists/shows/66001
http://wfmu.org/playlists/shows/67002
https://dustedandsocial.tumblr.com/post/138970883843/fake-radio-2016-vol-4-pictured-naked-lights
http://www.kfjc.org/music/playlist.php?i=52355
http://del-boca-vista.blogspot.de/2016/11/kommie-kunt.html

Reviews:
Blow Up Magazine
(Italy, December 2015)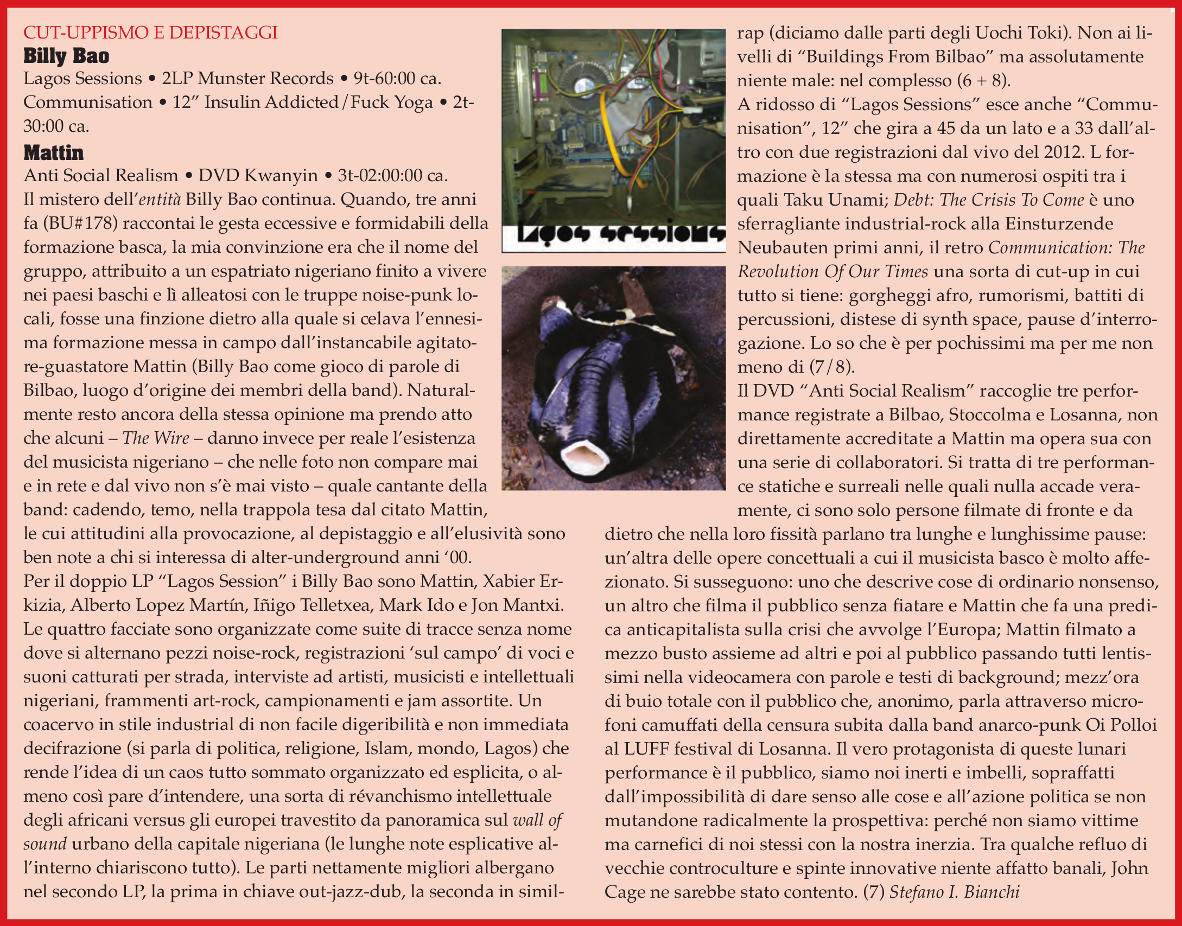 yellowgreenred (1 February 2016)
Like some of you I'm sure, I was a little surprised to see some new Billy Bao records coming out – I figured Mattin had basically exhausted this guise, from pounding, harsh anti-punk to empty field recordings, but it looks like he's recharged his batteries and is ready to go. I was fearing another slice of unlistenable noise/silence, but was taken aback to hear Billy Bao at his punkest here. This EP is great – "Debt: The Crisis To Come" is gnarly as can be, somewhere between Couch and Kilslug, with a plethora of irritating sound effects piling on top (perhaps in the same manner as our national debt?). Pretty much peak Billy Bao, if you ask me. "Communisation" is the flip and works more as a collage of plucky minimal synth, unhinged bashing ala a live Harry Pussy recording and various stretches of found-sound (read: boredom), but it flips through scenes fast enough that I find myself entertained by Billy Bao's scatterbrained approach. It's like as soon as you are finally over him, he comes back with just the right cut of belligerent rock music to suck you back in…


KFJC (California, 3 February 2016)
45 on one side, 33 on the other!
Noisey screaming feedbacky percussiony explosion.
They are Alberto L. Martin, Billy Bao, Mattin, and Xabier Erkizia.
A lot of volume and channel fluctuations. Very dynamic album, doesn't just stay in one place for a whole side, it's a shifting wild ride. First track references a Spanish woman who killed herself after being evicted which fueled protests regarding home foreclosures in Spain.
– Billie Joe Tolliver


Fucked by Noise (USA,

Thursday, 18 February 2016

)





Review by Joe McManamon-Simon

Genre/s: Noise Rock, Industrial, Power Electronics, Noise
For Fans Of: Cosmonauts Hail Satan, Premature Ejactulation, Twin Stumps, Skullflower

Everyone at FBN is a huge Billy Bao fan, I'm talking geek status; so when I saw Mattin sent us an email, giving us a heads up about the new 12" (which I actually knew about, as it was one of my most anticipated and favorite releases of 2015), I practically jumped out of my chair. I actually wanted to post this when it came out in December, but couldn't, because it wasn't up for free download -- but now we've gotten the green light, so here we go.

Those of you who know Billy Bao should have an idea of what to expect; on Communisation, they are doing what they do best. Those who don't, you're in for a ride. Billy Bao is notorious for their ability to create some of the most jarring and uncomfortable noise and noise rock, by not only combining the most abrasive elements of both instrumental and electronic noise; but also by turning those combinations into horrifying sound collages though the use of musique concrète techniques to play around with their mixes. Communisation sees them utilizing this style over the course of two tracks. The first is somewhat in the vein of their May 08 LP; it's 10 minutes of noise rock interspersed with power electronics and occasionally random instrumentation, field recordings, piercing tones, and sounds that make you think maybe something is wrong with your speakers (or headphones or whatever). The second reminds me of their Urban Disease LP; the track is a 20 minute sound collage which focuses on field recordings, tape loops, power electronic, and occasional instrumentation (mostly percussion). Trust me, it doesn't get boring at all, it's fucking terrifying and it's fucking awesome. This LP is a great addition to their already fantastic discography (which I obviously highly recommend).

Here's the short version: if you want noise -- and I mean more than just power electronics or monotonous repetition, I mean shit that is genuinely challenging and out there -- then Billy Bao should be your first stop. Smash that download button and get fucked up.

Tracklisting:
1. Debt: The Crisis To Come
2. Communisation: The Revolution Of Our Times

DOWNLOAD



At War With False Noise (Glasgow)
Absolutely impossible to tie down to any one sound, this latest record from Billy Bao starts off with a side of repetitive, raw AmRep-via-Brainbombs punk and is soon interjected by electronic bursts and frazzled tones. The 20-minute second side begins like a disco party and soon succumbs to what sounds like some sort of industrial experiment in a prison yard. It's completely unfathomable and pretty great!