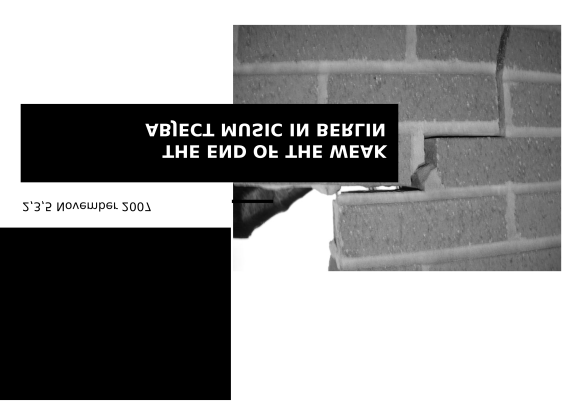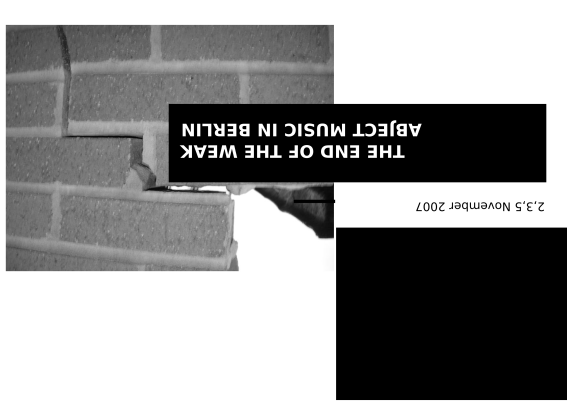 THE END OF THE WEAK
ABJECT MUSIC IN BERLIN
"Abjection: what disturbs identity, system, order. What does not respect borders, position, rules.
A place where meaning collapses."*


FRIDAY 2 November 2007
RAIONBASHI & KUTZKELINA (CHLORAL WORKS)
CONSUMER ELECTRONICS (Philip Best from WHITEHOUSE)
JUNKO & MATTIN (Junko from HIJOKAIDAN, duo release party, LP on TOCHNIT ALEPH )
" " [sic] GOLDIE ("ABJECTOR" [sic] release party, double debut cd on hibari music & w.m.o/r !!!)
Ausland, lychener str 60 | 10437 s- & u-bahn schönhauser allee
http://www.ausland-berlin.de/
10PM PUNCTUAL
5 EURO
***

SATURDAY 3 November 2007
SIXES
SLITHER
PHILIP BEST & DEFLAG HAEMORRHAGE / HAIEN KONTRA
TAKU UNAMI (release party of his new MALIGNITAT cd on skiti records)
JUNKO (acoustic solo voice)
ZAA, Marienburger Str. 47, Prenzlauer Berg
6PM PUNCTUAL, EVERYTHING HAS TO BE FINISHED BY 11PM
VERY LIMITED SPACE!!!
5 EURO
***

MONDAY 5 November 2007
TAKU UNAMI & MATTIN (Tokyo/Berlin)
Presentation of their new cd "Attention" out on hibari music and w.m.o/r.
Improvisation in the form of interrogation.
Kule, Auguststrasse 10, 10117 Berlin-Mitte
http://www.echtzeitmusik.de/index.php?page=venues
10PM PUNCTUAL
5 EURO
***

INFO:
" " [sic] GOLDIE (London)
http://www.difficultfun.org
http://www.mattin.org/DHHK.html
The most avant-garde drummer that I know,
the one that is able to push things until you do not what the fuck is going on.
There is only one thing clear with " " [sic] GOLDIE, and that he is going for ABJECTION in its purest form.
Tonight he will be presenting his debut double cd "ABJECTOR" [sic], that will come out that night on hibari music/w.m.o/r.
Repelling, rejecting; repelling itself, rejecting itself. Ab-jecting.
RAIONBASHI & KUTZKELINA (Berlin)
http://www.tochnit-aleph.com/raionbashi/
From the TOCHNIT ALEPH label, CHLORAL WORKS
JUNKO & MATTIN (Osaka/Berlin)
http://www.mattin.org/recordings/Pinknoise.html
Junko & Mattin are just about to release an LP in TOCHNIT-ALEPH after their PINKNOISE cd, and this will
be their last gig from a tour with Michel Henritzi. Junko's voice with make you realize that there is no much in between your left and your right ear, and if there is this music will get rid of it.
CONSUMER ELECTRONICS (Berlin)
http://philipbest.blogspot.com/
One half of WHITEHOUSE,
His delivery of vocals are getting stronger and stronger, and his music...
we all know he is a genius and a lovely human being!!!
SLITHER (Michigan, USA)
SICK LLAMA + another artist
"the best dude in "noise" right now.... total fucking braindead, too burnt out to even get high anymore type noise.... "Maim & Disfigure.
SICK LLAMA have just released an LP on Aaron Dilliway's label Hanson.
SIXES (Oakland, USA)
http://www.crashworship.net/sixes/
Nothing but a bloodied trail of live miasma can peice together a 15+yr hellish trainwreck. Dating back somewhere around the late 80's under the nom de guerre, AZOG, years of venomous scum electronics thrust upon the west coast underground denizen were greeted with aversion.
PHILIP BEST & DEFLAG HAEMORRHAGE / HAIEN KONTRA (Berlin/UK)
http://philipbest.blogspot.com/
http://www.mattin.org/DHHK.html
First ever collaboration from Whitehouse member Philp Best and the abject band
DEFLAG HAEMORRHAGE / HAIEN KONTRA. Anything can happen!
Taku Unami (Tokyo)
http://www.hibarimusic.com
Head of the hibari label, and always trying to push the logic of improvised music to the next level, sometimes you might think is humor, others you are just too normal to understand it. Unami will be presenting his last solo "Malignitat" that just came out in skiti records (Japan).
Junko (Osaka)
The vocalist/singer/screamer from the king of noise band HIJOKAIDAN,
will be doing her first acoustic solo performance.
Horror and desperation is the most beautiful form ever.

*Adapted from Julia Kristeva's essay "Approaching Abjection".